Ashbeg are Specialists in Roofing Construction
From pitched roofs to flat roofs, slate roofs to tiled roofs, we are specialists in repairing, renovation or replacing existing roofs or building a roof on a new project, we work with you to deliver a satisfactory solution for your roofing needs.
If your home has suffered from storm damage, cracked roof tiles or slates or just have a water leak, you can depend on us for a satisfactory repair
Ashbeg Your Local Builder in Cork Tel: 087-2538370
Roofing Service
When your roof is leaking, you are losing value, products, and money. Roof leaks cause many problems including damaged insulation, ceilings, floors, and wall surfaces, as well as water damage to equipment and loss of contents.
Ashbeg can help. Call us to stop leaks and preserve your home or business. We can repair and replace any type of damaged roof and wall. We are your one-stop shop for emergency and restoration service and will work with your insurance company to get the job done.
Roof Services
Hail & Wind Damage

Residential Roofing

New Roofs

Insurance Claim Specialists

Tarp Leaks and Board-Ups

Synthetic Felt Installation
Roof Services Con't
Repair Interior Leak Damage

Flashing & Waterproofing

Insulation

We Stop Leaks

Chimney Repair and Flashing

Debris Recycled Where Available
Chimney Repair and Maintenance Checks
Due to the very nature of there job Chimney are usually exposed to the elements and high winds, some chimneys have satellite dishes hanging on them, therefore increasing the risk of damage to their structure.
We find that most clients forget about there chimney as it is on the roof and out of your eyesight, the issue is that if you do not pay attention to your chimney and have regular maintenance checks then cracks and loose pieces of masonry go undetected and they can cause leaks or become unstable, these loose pieces will need replacing at the earliest signs of deterioration to avoid a full repair.
Here at Ashbeg Construction Cork we always advise our clients to have a yearly maintenance check to avoid any nasty surprises in the winter times. we only use the finest materials to repair your chimney very often this can only require sand, cement. We also specialise at re-pointing chimney stacks in all properties both old and new.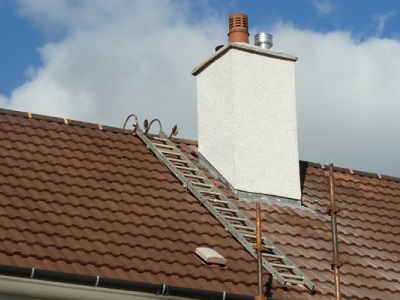 Ashbeg Your Roofing Specialist
Your Local Builder in Cork Tel: 087-2538370